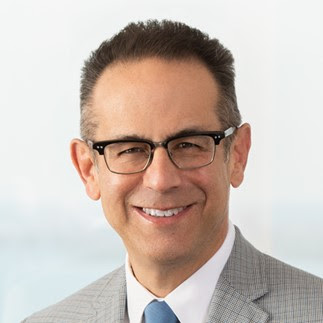 Roger Kobert is a New Jersey native who grew up in South Florida, went to college in Philadelphia and returned for law school in Miami, where he has practiced for more than 32 years. He now practices in both New York City and Miami as a shareholder with Carlton Fields, a full-service national law firm.
Roger earned his B.S. in political science from the University of Pennsylvania in 1985 and his J.D. from the University of Miami School of Law in 1988. Prior to joining Carlton Fields last year, Roger was a partner at other firms, including Weiss Serota Helfman, where he headed up their International Law Group in Coral Gables; New York boutique Fischer & Mandell, where he created and ran its Miami office; and Shutts & Bowen in Miami.
Roger is a longtime member of The Florida Bar International Law Section. He is former chairman, vice chairman, and treasurer of the Federal Bar Association International Law Section and a member of its National Task Force on Diversity and Inclusion. He is active in the ABA International Law Section, including several committee, conference, and financial leadership roles. Roger is a frequent speaker on matters of international and domestic law and professional ethics.
Roger was one of nine inaugural appointees by The Florida Bar to serve on the Board Certification Committee on International Litigation and Arbitration. The committee created a new certification examination from scratch, annually modifying and expanding it, as well as vetting applicants and grading exams. Roger was recently re-appointed to a second term, and now serves as the committee's vice chair. He has been Florida Board Certified in International Litigation & Arbitration since inception of the Bar's recognition.
In his private practice, Roger represents foreign and domestic businesses, governments, and individuals in federal and state litigation, arbitration, and appeals; has served as a U.S. law expert witness in foreign court proceedings; advised foreign governments on matters of U.S. law; and led cross-border, multinational, and domestic dispute resolution teams. His subject matter experience includes banking, commercial torts and contracts, foreign sovereign immunity, insurance, real estate, antitrust, and § 1782. His notable work includes serving as lead counsel against a former head of state for crimes against humanity; establishing a new standard for franchisor tort immunity in the Florida Supreme Court; securing the release of foreign governmental assets frozen by the Office of Foreign Assets Control; and trying a high-profile, multinational fraud case involving U.S. military contractors.
Why did you become Board Certified in International Litigation and Arbitration? Despite explosive growth of arbitration and international litigation in recent decades, there wasn't, until now, an objective way to identify the most highly qualified and experienced practitioners. This certification is a valuable public service. It draws attention to and confirms experience and competence, so that clients, colleagues, arbitrators, and judges can be confident that the dispute resolution advocacy in question is of the highest caliber and leads to optimal results.
This new recognition was conceived through remarkable vision and effort by leading members of the Bar, and particularly this Section. I'm honored to have been twice selected to serve on the committee, and to help ensure that the best-qualified and experienced international litigation and arbitration practitioners are identified and recognized. It's a feather in one's cap, no doubt. I'm proud of the service we provide to the Bar and encourage others to learn the craft and earn their own recognition.
What are some benefits you received from being Board Certified? Credibility, qualification, and value all come along with the certification, as the Bar has done the vetting for clients, adverse parties and counsel, arbitrators, and judges. It's akin to passing a general bar exam in that sense, but it's a specialized "bar" that only years of dedication and experience can provide. It's nothing short of recognition of expertise in this broad yet specialized field of law, so everyone benefits from its confirmation.
Any best tips or advice to ILS Members preparing for the Certification Exam? While the specifics of the test are closely guarded, of course, it's not tipping our hand to reveal that the exam is designed to be both fair and challenging. Many hours are put into ensuring both, and to test qualified candidates' mettle. Our goal is not to be exclusionary by being so pedantic that we keep the "club" as small as possible — on the contrary, we seek to accept as many deserving members as we can, without compromising standards, to ensure that the certification has genuine worth. My tip is to be patient if you're an up and coming international litigation/arbitration lawyer, gain your experience, study and practice the rules, precepts, and conventions, and be prepared to be tested vigorously but fairly when you're ready. Nothing would make us happier, and feel we've succeeded, than to welcome many more members to our specialty field.